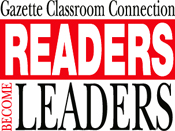 University studies have shown that students exposed to the newspaper perform better on standardized tests. The Gazette's Newspaper In Education (NIE) program provides over 5,000 sponsored newspapers per week during the school year students and teachers in grades K-12. Schools receive the newspapers thanks to the support of subscribers' vacation donations, business sponsorships and special events.
NIE provides resources to use the newspaper and related teaching materials in a variety of subjects including current events, reading, math, science, geography and more. Visit NIE's lesson library at www.gazette.com/NIE for curriculum for teachers and family activities incorporating the newspaper in learning.
NIE also aids area schools through the Reading is Elementary fundraiser program in which schools and qualified youth and educational groups raise funds by selling specially-priced newspaper subscriptions.