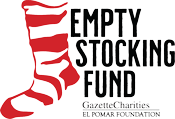 "Empty Stocking Fund sparks the giving spirit of the Pikes Peak Region to benefit local nonprofits serving neighbors in need."
The Gazette-El Pomar Foundation Empty Stocking Fund provides resources for local health and human service agencies on the front lines of helping people in crisis and assisting others in attaining self-sufficiency.
As a true community collaboration, the fund's success is due, in part, to partnerships formed between Gazette Charities, El Pomar Foundation and the Bruni Foundation.
Community donations grow up to 45% thanks to matching donations from El Pomar Foundation, who matches $1 for every $3 raised, up to $200,000, and Bruni Foundation, who matches $1 for every $10, up to $70,000.
All administrative costs for the campaign are covered by The Gazette and El Pomar Foundation, The Anschutz Foundation, Wells Fargo and ADD Staff Inc., so every dollar raised goes to our partner agencies to help those in need.
Empty Stocking Fund partner agencies include: American Red Cross Pikes Peak Chapter; Care & Share Food Bank; Catholic Charities; CPCD/Head Start; Ecumenical Social Ministries; Griffith Centers for Children/Chins Up; The Home Front Cares; Lutheran Family Services; Mercy's Gate; Partners in Housing; Peak Vista Community Health Centers; Pikes Peak Hospice & Palliative Care; The Place; The Resource Exchange; The Salvation Army; Silver Key Senior Services; TESSA; Tri-Lakes Cares; Westside Cares and YMCA.
Since its inception in 1984, the Empty Stocking Fund has generated more than $23 million through the generosity of individuals, families, civic organizations, businesses and foundations in the Pikes Peak region.  
To find out more, please visit https://www.emptystockingfundco.org.